From your child's first class to their graduation performance, Chara Christian Dance Academy has a class for everyone!  We specialize in beginners of all ages and offer comprehensive training through pre-professional levels.  Our dance instruction goes beyond technique as we help students build important life skills. Chara Dance classes offer a positive, Christian environment with modest costumes and choreography in which a student's passion, skills, and friendships can flourish.
The highlight of a dancers year at Chara Christian Dance Academy is our annual Spring Recital.  Students confidently shine on the big stage and showcase their skills in one of our 5 different recitals held in May at the Slocumb Auditorium at San Jacinto College in Pasadena.
You can expect a professional and organized recital experience with performances that will both move and inspire audience members. Your dancers performance will be well rehearsed with a professional dress rehearsal and family friendly costume selections, music, and choreography!  All recitals are streamed LIVE and each Chara family is provided with 4 FREE tickets, a recital t-shirt for each dancer, and a digital copy of each recital. We proudly recognize and award dancers participating in their 3rd, 5th and 10th recital.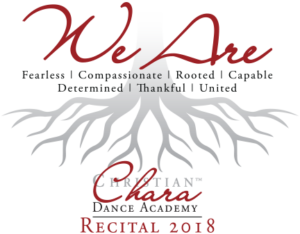 Chara Dance Academy proudly employs professional, caring, and dedicated dance instructors who are active role models in the lives of their students.  Our instructors teach students technical skills, Christian values, and self-confidence that will guide them throughout their dance journey and within their everyday lives.  Many of our instructors have danced at a professional level and/or hold a university level degree in dance. Each instructor participates in continued education both within and outside of the studio to stay current in the field of dance.